Harmonic Technology Digital Copper III (75-ohm)


Harmonic Technology's Digital Copper III, terminated in either single-ended RCA or BNC, is a 75-ohm coaxial digital cable manufactured with our proprietary Single Crystal (OCC) copper conductor. The Digital Copper digital cable allows for the highest level of signal purity in a coaxial design – especially in the midrange and treble frequencies. Harmonic richness is greatly increased due to the elimination of crystal boundaries and impurities that can disrupt the integrity of the complex harmonic digital waveform. Using the world's best connectors and insulation materials, the Digital Copper III is one of the most accurate and pleasing digital cables on the market.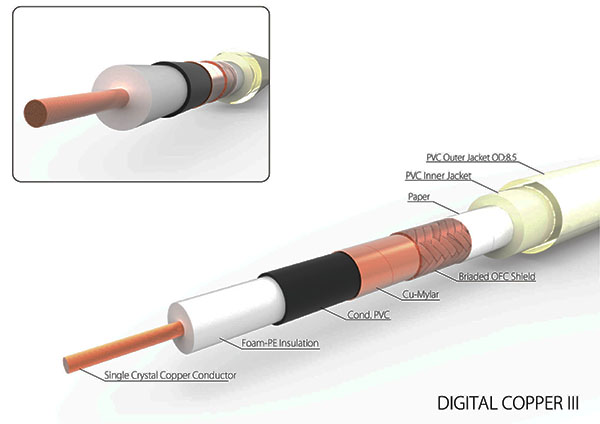 Harmonic Technology's Digital Copper III greatly reduces grain and fuzz, preserving the harmonic richness of the original recording. A velvety-black background is also highlighted, such that small details appear to be holographically suspended in the soundstage. Since copper has a slightly "rich" sound, with added bass and slightly less treble detail than silver, this copper digital cable will be a great match for systems that need more "sweetness" in the highs. Treble detail is quite smooth and yet very apparent, the best of both worlds. Harmonic Technology's Digital Copper III is truly a reference product which will transform the sound of your system.
Technical Data
| | | |
| --- | --- | --- |
| Details | RCA Terminations | BNC Terminations |
| Capacitance per foot | 22 pF | 22 pF |
| Inductance per foot | 0.46 uH | 0.46 uH |
| Resistance per foot | 0.008 Ohm | 0.008 Ohm |