Harmonic Technology Digital Copper III


Harmonic Technology's Digital Copper III, terminated in either single-ended RCA or balanced XLR, is the finest digital cable ever designed. Through heroic engineering efforts in both materials and build quality, the Digital Platinum ensures professional quality and reliability for even the most sophisticated reviewers.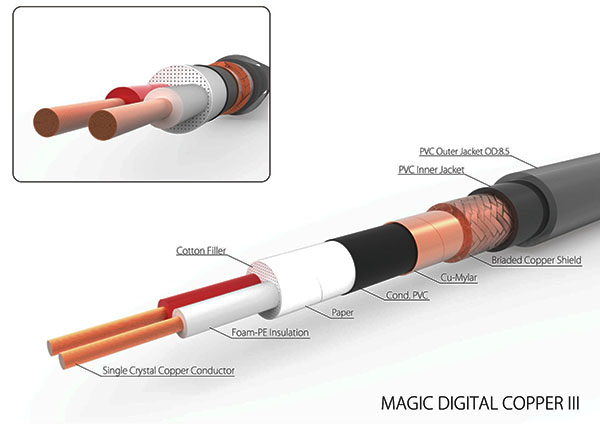 Our proprietary Triple-Shield noise reduction design uses three separate shields that operate at differential ground potentials to create the smoothest possible operation. An Oxygen Free copper braided shield, combined with a Cu-Mylar foil & Conductive PVC, ensures the highest signal-to-noise ratio to protect the delicate digital data bit stream.
Harmonic Technology's Digital Copper III digital cable offers the widest bandwidth and frequency range of any digital cable on the market. It allows your digital playback system to sound as good as an original master tape. Dynamic range and background quieting are stunning, finally letting you hear the quality of your transport and DAC for the first time. In addition, the reduction of distortion and glare is amazing, enabling your digital playback system to sound as smooth as the best analog sources. This is a must for professional applications where reference-grade quality is necessary.
Technical Data
| | | |
| --- | --- | --- |
| Details | RCA Terminations | XLR Terminations |
| Capacitance per foot | 22 pF | 21 pF |
| Inductance per foot | 0.50 uH | 0.42 uH |
| Resistance per foot | 0.014 Ohm | 0.013 Ohm |