Harmonic Technology's Pro-9 Reference SE 2014's version speaker cable, (available as a mono speaker wire, internal bi-wire or external bi-wire formats), is an improved version from previously released Pro-9 Plus speaker cables. We have completely re-designed the geometry designs as well as using the soft PE and High Tech *Teflon insulation. The only conductor material is Single Crystal Copper (OCC Copper). The Pro-9 Reference SE speaker cable has greatly improved the overall performance. We have also engaged design effort to improve the flexibility in particular for winding around tight corners.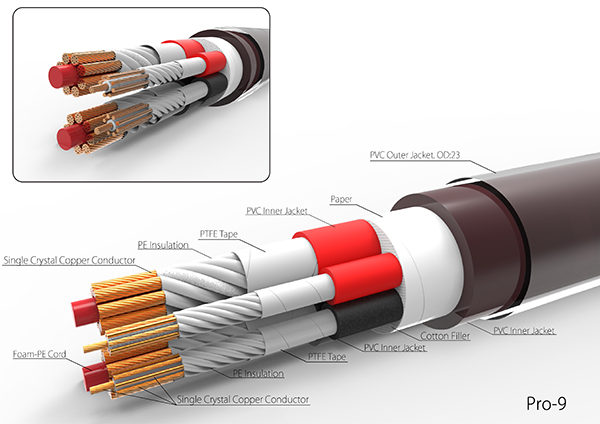 Pro-9 Ref. External Biwire Version Speaker Cable A.K.A. (shotgun biwire)
In a variety of lengths and terminations, the Pro-9 Ref. speaker cable could accommodate any of your speaker cable requirements. This speaker cable ensures the best signal transfer and greatly reduces inductance and capacitance for extremely accurate sound. The Pro-9 Reference is the best speaker cable available for any kind speakers to connect with any amplifiers.
This version speaker cable will easily outperform any existing speaker cables on the market. This speaker cable allows the bass to be very tight, yet extremely dynamic. The mid-range is exceptionally rich, with tremendous detail and harmonic completeness that borders on realism. The highs are very smooth and detailed, without the artificial "zing" that you may experience with other speaker cables. Harmonic Technology has delivered a speaker cable that allows the soundstage to bloom as large as your room — a holographic depth and roundness you simply must experience.
We have developed two distinct types of the Pro-9 Reference bi-wire speaker cable—an internal and an external version—in order to accommodate your varying needs and configurations.
Note: For a special handling with extra cost, your dealers can order the "BI-AMPING-SET which is the PRO-9 Reference external biwire speaker cable can has separated woofer and tweeter cable" for you.
The Pro-9 Reference Internal Bi-Wire
(A.K.A. standard biwire speaker cable)
The Pro-9 Internal Bi-Wire is similar to our previous Pro-9 Plus speaker cable, but it contains the Woofer set and Tweeter set within one jacket but in the separated compartments. The sample shown in the image represents a configuration where two spades are provided at the amp end and four spades are provided at the speaker end. The Pro-9 Reference Internal Bi-Wire is ideal for customers who prefer only one single jacket for each side of the speaker.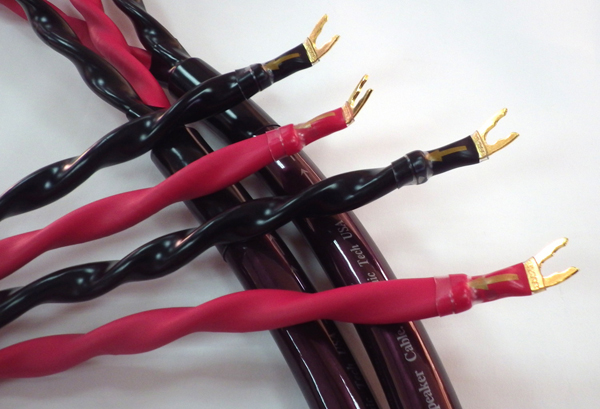 Pro-9 Ref. Internal Biwire Speaker Cable
The Pro-9 Reference External Bi-Wire provides an unique design, where we have merged two separate sets—the Woofer set in the inner circle and the Tweeter set in the outer circle—at the amp end. This type of configuration is ideal for situations where your speaker has a larger than average distance between the "Woofer binding post" and the "Tweeter binding post". The example below indicates a configuration where two spades are provided at the amp end as well as a spade on the Woofer binding post and a locking banana on the Tweeter binding post.
Mono Speaker Cable
(A.K.A. Full Strength; Full Range; non-biwire Speaker cable)
The Pro-9 Reference SE is also available as a Mono speaker cable. This cable is a newly-improved version with greater flexibility than our previous Pro-9 plus Mono Speaker cable.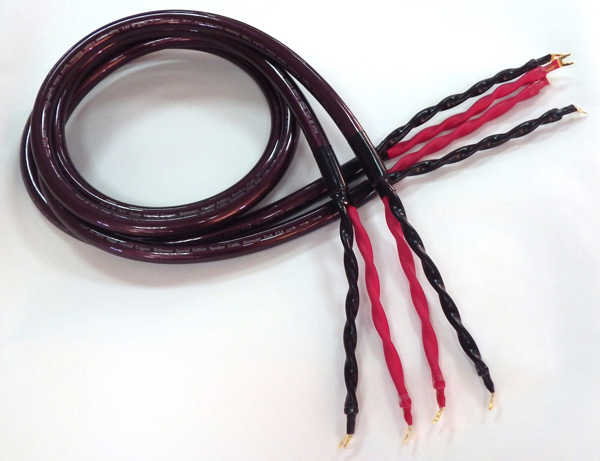 Pro-9 Reference Mono (Full Strength) Speaker Cable
* Teflon is a registered trademark of Dupont